By Erez Baron, Director of Patient Relations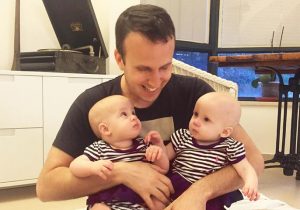 It's easy to feel stressed out by an approaching surrogacy journey, it is likely the most meaningful experience you will ever go through in your life. Take a deep breath. In this article, I'll share my advice and wisdom from my first-hand experience of growing my family through surrogacy and IVF. My experience as a father of twin girls through split-cycle IVF and the Director of Patient Relations for ORM Fertility has given me a wealth of knowledge regarding what to pay attention to throughout your surrogacy journey, which marketing traps to watch out for, and how to leverage the experience of others in your favor. I'll also share some advice on what to prepare for, what information you should be receiving from clinics and agencies, expenses, and why it is important to have a support network throughout the process. 
Find a Surrogacy Agency with Experience that Relates to You
Let's start with the basics – surrogacy is, in the end, a process of fertilization and pregnancy, and each surrogacy journey and pregnancy is special and unique. Since the process is so personal to each individual or couple with various steps to navigate, professional accompaniment throughout your journey is a necessity. Many surrogacy agencies tout their "experience" with large numbers of clients they have had, however, it is important to work with a team that has experience with your type of journey. For example, if your an international couple, look for an agency that has specifically worked with intended-parents from your country to ensure they have completed the processes and dealt with the nuances and obstacles that may arise in your specific journey. 
Here are some questions you can ask when evaluating surrogacy agencies:
Do they have experience working with individuals and couples like yourself? I.e. single father, LGBTQ+ couples, gender selection, hiv+ patients, international patients from a different time zone, clients with language barriers

Do they have experience with matching people like you and finding insurance?

Have they worked with your clinic and their specific requirements before? 

How do they care and support the surrogate?

How many journeys do they manage at a time?

What is the expected wait time until you are matched with a surrogate? 

Will they present you with a surrogate that has already been screened and approved by your clinic?
Budgeting for Your Surrogacy Journey
Let's not fool ourselves, a journey to parenthood via surrogacy and IVF is not cheap. The process is complicated and expensive, and it is important to make financially-wise decisions throughout your journey. There are many variables that should be taken into consideration when estimating the total cost of your surrogacy journey. Be sure to take into account any additional services you're considering (i.e. genetic testing that you may not always know in advance what your financial responsibility is if you're utilizing insurance or if any unforeseen costs pop up like pregnancy complications. The surrogacy process is truly unique as is the care for the gestational carrier, fertilization, embryo development, medical examinations, etc. 
Things to consider when comparing Surrogacy agency prices:
Bids vary and are just as important as anything else

Review offers and take notes

Ask to see the agency's legal contracts 

Read the fine print

Consult with experts – compare apples to apples. 
Two Key Things to Look for in a Surrogacy Agency and Fertility Clinic
An agency with experience and legal guidance
When choosing a surrogacy agency to work with, it's crucial to find an agency that will provide support and care for your special and unique journey. Look for professionals that can speak to your specific treatment and process needs. If you're an international patient traveling to the U.S., be sure to look for an agency with experience working with other international intended-parents. You will also want to work with close legal guidance throughout the process. If you're an international patient, you'll want a team that is well versed in U.S. law as well as your home country's law that will be available to answer any questions you may have. Your journey to parenthood will be a stressful period, filled with fears alongside joy and excitement. There's no reason to burden yourselves during this time with legal concerns when professionals can help you navigate the sophisticated process. 
Success Rates
Many people think there are no major differences between fertility clinics and that success rates are not the most important thing to look at before choosing a clinic to work with, however, I strongly recommend asking to see the statistics and success rates of any fertility clinic you are considering. The higher the rates of a successful pregnancy and live birth, the less time the whole process will take. With a higher chance of success on the first attempt, you will save yourself time, money, and, of course, stress and heartache. the chances of giving birth are on the first attempt, the less time the whole process will take. You want a leading clinic, with high success rates, that specializes in processes like yours, and that can provide you with all the tools required to ease your process.
Most importantly, take your time when making decisions and catch up on your hours of sleep- once your baby arrives you won't have that many.