While assisted reproductive technology has made it possible for same-sex couples and other members of the LGBTQ+ community to have biological children, the financial cost of doing so can be significant. And though it's increasingly common for insurers to cover fertility treatment, people in the LGBTQ+ community may still encounter barriers and obstacles that heterosexual couples and singles don't face.
This LGBTQ+ fertility treatment finance guide will walk you through what you can expect to pay for fertility care, questions to ask your insurer, non-insurance sources of financial support, including financing and grants, and the challenges LGBTQ+ patients may face during their journey to parenthood.
Costs to Expect when Building Your Family
What you can expect to pay can range from under $5,000 (for intrauterine insemination with no meds) to six figures (for gestational surrogacy), depending on your circumstances and needs. For gay couples and singles, for transwomen, or for any other couple in which both partners have testes, a gestational carrier or surrogate is the only option for having biological children. On the other hand, for lesbian couples and singles, transmen, and other people with ovaries, there are more possibilities. Below is a quick overview of the options available, who they're most suitable for, and a ballpark cost estimate for each.
Intrauterine Insemination (IUI)
Intrauterine insemination, or IUI, requires that at least one prospective parent have both a uterus and ovaries. IUI is a simple procedure in which sperm are introduced directly into the uterus and has long been the standard for lesbian couples who wish to conceive with the help of a sperm donor. IUI is also appropriate for transmen who still retain their uterus and ovaries (though it necessitates discontinuing hormone therapy for a period of time) and non-binary people with a uterus and ovaries. The cost of IUI depends on various factors, such as whether the sperm is purchased from a sperm bank and whether or not medication is used. The cost is generally under $5,000 and may even be under $1,000.
In Vitro Fertilization (IVF)
In IVF, medication stimulates the ovaries to produce eggs, which are retrieved through a minor surgical procedure once they mature. The eggs are then fertilized in the laboratory using sperm, resulting in embryos that can be transferred back to the uterus of the parent who plans to give birth or to a gestational carrier. Usually, only one embryo is transferred, and any additional embryos can be frozen and stored, giving the potential for siblings later on.
Like IUI, IVF is an option for people of any orientation. The cost of an IVF cycle varies wildly — from around $10,000 to as much as $25,000 — but the base cycle price averages around $12,000.
IVF with Donor Eggs
If one or both partners cannot produce viable eggs, or if there is concern about a genetic problem, prospective parents may choose to use donor eggs. Using an egg donor can raise the cost of an IVF cycle significantly to between $20,000 and $30,000.
Reciprocal or Co-IVF
Reciprocal IVF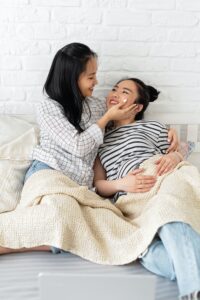 is a great option for lesbian couples or couples in which both partners have a uterus and ovaries. In reciprocal IVF, one partner provides the egg (which is fertilized with donor sperm), and the embryo is transferred to the uterus of the second partner, who will carry the baby and give birth. Reciprocal IVF is more expensive than traditional IVF but less expensive than using an egg donor, averaging around $20,000.
Gestational Surrogacy
Gestational surrogacy is a type of assisted reproductive technology in which a woman (the gestational surrogate) carries a pregnancy for another person or couple (the intended parents). The gestational surrogate is not biologically related to the child, as the embryo is created using the intended parents' eggs and/or sperm, or donated eggs and/or sperm. The gestational surrogate carries the pregnancy to term and delivers the baby, which is then given to the intended parents to raise as their own. Gestational surrogacy is a common option for gay men building their families or with any couples that don't have a uterus or are otherwise unable to carry a pregnancy.
In contrast, with traditional surrogacy, the carrier is also the egg donor and thus the resulting child's genetic mother. In gestational surrogacy the egg donor and the surrogate are different people. Traditional surrogacy is much less common in the US than gestational surrogacy, as it can be legally complicated, and many states have laws that restrict or prohibit it.
Gestational surrogacy presents fewer legal complications, and many surrogacy agencies will handle the legal details for you. Surrogacy is an option when at least one of the partners has testes and is capable of producing viable sperm, and the only option when both do. It typically starts at around $100,000.
Within the Pinnacle Fertility network, we only work with gestational surrogacy and not traditional surrogacy.
Fertility Coverage for LGBTQ+ Individuals and Couples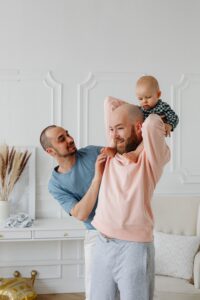 While more insurers are adding fertility treatment to their coverage, many do not, and many cover only certain procedures or care in specific circumstances. This makes checking your insurance coverage essential before you take any other steps. Contact your insurance company, and ask them these questions:
Does my policy cover fertility treatment?
If so, will I, as an LGBTQ+ person, be covered — do I need a diagnosis of infertility?
What exactly will be covered? IUI? IVF? Surrogacy? What about egg and embryo freezing?
How many cycles will be covered?
Will medication be covered? What about cycle monitoring, ultrasounds, and bloodwork?
Will we be covered as a family if my partner is the one inseminated?
Are there exclusions, and if so, what are they?
How much is my deductible? What about co-pays (and when do they have to be paid)?
If your policy doesn't cover fertility treatment or offers only sparse coverage, you may consider shopping around for a policy that does meet your needs. You can also raise the issue with your Human Resources department and ask that your employer consider adding fertility and family-building to their benefits package through a company specializing in inclusive coverage. Depending on your current employment status, it might even be feasible to switch jobs and find an employer who does offer generous LGBTQ-friendly fertility benefits.
Additional Support for Affording Care
You still have options if your insurance leaves you out in the cold.
Look for a clinic that offers to finance
If you've already selected a fertility clinic to work with, discuss your financial situation and needs with them. Many clinics offer payment plans or partner with financing companies specializing in fertility treatment loans. Some even offer financial assistance or grants for clients whose income falls below a certain threshold, and many have financial counselors who can help you find alternative funding sources. Your clinic may even be able to connect you with medication-assistance programs offered by pharmaceutical companies, which can help pay for medications.
Apply for grants
A surprising number of grants are also available for people seeking fertility treatment. Some, such as the Baby Quest Foundation, offer grants to people nationwide, while others are only open to people in specific localities or who meet certain criteria. Since the application window and qualifications are different for each grant and change from year to year, we won't list them here, but a quick search will show you what's available. Not all are LGBTQ-friendly, but many are.
Take out a loan
If your credit is excellent, you may be able to take out a personal loan to cover part or all of the cost of care. If you choose this route, make sure you budget for the expenses accompanying parenthood when calculating the payment you can cover. If you own a home, a home equity loan may be an option, with the same caveat.
Ask your support network for help
If you're comfortable discussing your fertility issues with your family and friends, do so. You may find they are willing to help you out financially in your quest for parenthood. Just be clear on the expectations if any funding offered is a loan or a gift, and when you're expected to repay it, etc.
Try crowdfunding
If you're willing to express your hopes and dreams of parenthood publicly, crowdfunding can be a useful tool for raising money to pay for care — money that you don't have to pay back. Both GoFundMe and GiveSendGo allow you to keep the funds you raise even if you don't meet your goal.
Realistic Challenges You May Face
The most common obstacle you may face is the requirement that you have a diagnosis of infertility. Many insurance companies will not cover fertility care without this, and many grants also list this as a qualification. Unfortunately, there is currently little you can do in this situation, though some grant programs may make exceptions to the rule for LGBTQ+ couples.
Additionally, some fertility clinics may have little experience in dealing with trans people, which can be uncomfortable and feel exclusionary. If you are trans, have a frank discussion with the clinics you're considering. Ask them about their experience and policies, and choose a clinic where you feel at ease.
At Pinnacle Fertility, we're proud to be an inclusive network of fertility clinics that are honored to help LGBTQ+ individuals and couples achieve their dreams of parenthood.
Begin Your Path to Parenthood Today
Fertility care is expensive, and although times change, LGBTQ+ individuals still face barriers. However, careful research, planning, and perseverance can pay off. An inclusive, LGBTQ-friendly clinic can help you overcome the obstacles on your path to parenthood.
Find a Pinnacle Fertility network fertility clinic today for the information and resources you need to begin your journey to parenthood.