One of the big reasons we decided to go with ORM [is] how welcoming they are to the LGBTQ community. With ORM, the entire experience is just so positive, comfortable, and welcoming.
Andrea and Liz met in 2010 through mutual friends and have been together ever since. After they were married, they had their first son through IUI in Phoenix, Arizona. After their son was nine months old, they decided to expand their family and found ORM Fertility.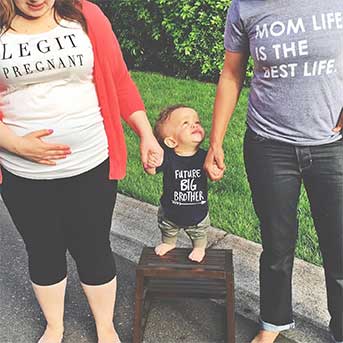 Andrea and Liz decided to pursue reciprocal IVF to tie their whole family together. With reciprocal IVF, embryos were created via IVF using Liz's eggs and the same sperm donor as their son. Andrea underwent an embryo transfer and became pregnant with their daughter Ophelia. They welcomed her into the world in February 2017.
Follow Their Path to Parenthood

Reciprocal IVF Fertility Path
Liz and Andrea came to ORM Fertility to grow their family through fertility treatment. After a personalized consultation with an ORM physician, they decided to pursue reciprocal IVF. With reciprocal IVF, one partner's eggs are used and the other partner carries the pregnancy.
They decided to use Liz's egg and the same sperm donor they used for their first child in order to connect their family even more. Liz underwent an egg retrieval and the embryos were created in ORM Fertility's embryology lab. Andrea underwent the embryo transfer and then carried the pregnancy.